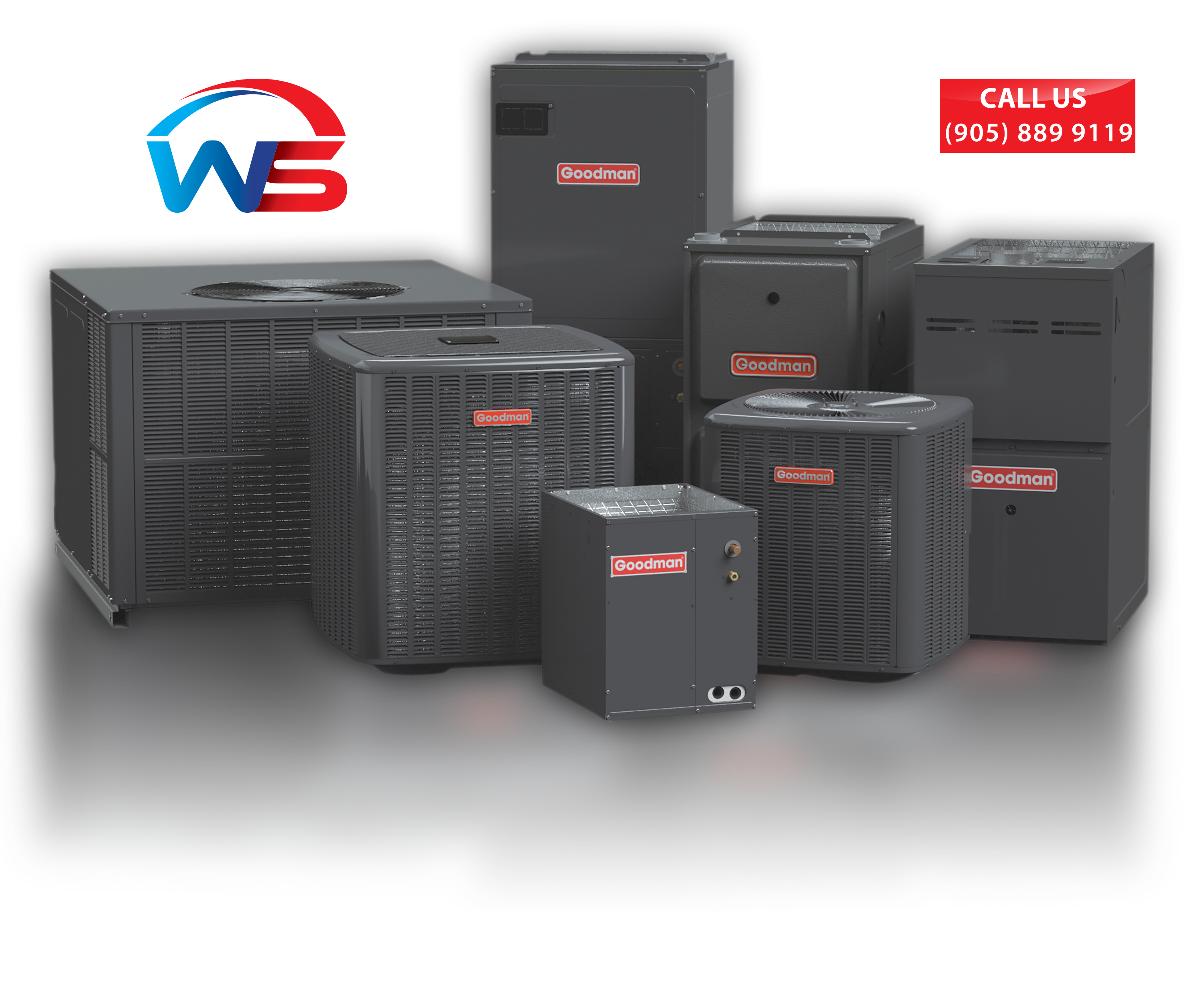 GMEC96, GMVM96

FEATURES
Heavy-duty aluminized-steel tubular heat exchanger
Stainless-steel sloped secondary heat exchanger
Silicon Nitride igniter
Color-coded low-voltage terminals
Two-Stage gas valve
Multi-speed ECM blower motor with continuous fan speed
All models comply with California 40 ng/J
Fault code LED Output
AHRI Certified – ETL Listed
Energy Star
Two-stage gas valve
Furnace control board with self-diagnostics and provisions for electronic air cleaner and 120-volt or 24-volt humidifiers
BENEFITS
High reliability and quality
Faster condensate water drainage and no unit water leakage
Durable and long igniter life
Provisions for electronic air cleaner and humidifier
Quiet and Economical heating
Energy Efficient and quiet circulation
Lower NOx emission
Self-diagnostic control board with constant memory
Meets the performance requirements for AHRI certification and complies with ETL North American safety standards.
Tax Credit
Operates on two-stage or single-stage thermostats
Easy Connection for EAC and Humidifier 
GSX 13, GSX 14, GSX 16

FEATURES
Energy-efficient compressor
Single-speed PSC condenser fan motor
Factory-installed filter drier
Fully charged for fifteen feet of tubing length
Contactor with lug connection
AHRI Certified – ETL Listed
Ground lug connection
Copper tube & enhanced aluminum fin coil
BENEFITS
Energy-efficient compressors are designed to efficiently deliver indoor comfort, possibly saving on monthly energy costs.
A single-speed permanent split capacitor (PSC) condenser fan motor is designed to provide consistent airflow for optimum system performance.
Filter-driers play a pivotal role in the operation of air conditioning and refrigeration systems. A factory installed filter-drier absorbs and filter"s residual system contaminants and moisture.
Fully charged with refrigerant sufficient for 15' of tubing length to assist with easy installation of unit.
Contractors can securely connect wires with large screw lugs, allowing for quick and solid wiring.
Meets the performance requirements for AHRI certification and complies with ETL North American safety standards.
Contractors can easily and securely connect the ground wire with a screw lug.
Copper coil tubing with enhanced aluminum fins increases the area for heat absorption, providing outstanding, energy-efficient heat transfer performance
H190-TRG, H120-TRG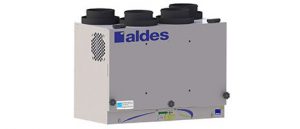 Aldes' efficient residential heat-and energy-recovery ventilators (HRVs and ERVs) deliver fresh, healthy air to your living spaces while recovering the heat (or cooling) in your indoor air to save energy costs. Aldes' air exchangers are robust, easy to install and balance, and come with a variety of filtration and wall control options.
HRVs recover the heat in the indoor air in winter and exhaust moist air, removing all excess relative humidity. ERVs recover the heat and a portion of the excess humidity to avoid over-drying the indoor air in winter, and avoid bringing in excessive humidity in the summer. Discover the right solution for your needs.
Technical Specifications
Maximum Airflow
up to 220 CFM at 0,4 in
Recovery core type
Polypropylene
Height
21 in
Width
29 3/16 in
Depth
15 1/8 in
Weight
51 lb
Duct diameters
6 in
Filters
2 x Aluminum (P/N 683959)
Electrical specifications
Voltage – 120 VAC Current – 1,95 A
Unit limited warranty
5 years
Core limited warranty
Lifetime
Certifications
Energy Star
APRILAIRE 600M, APRILAIRE 800 STEAM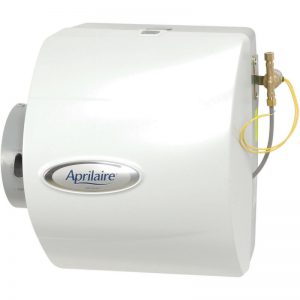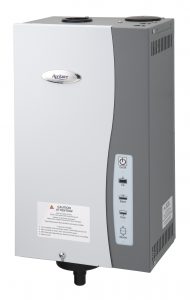 Aprilaire introduced the first evaporative humidifier for forced air furnace systems back in 1954. Since that time, Aprilaire continues to lead the industry in whole home humidification systems. Our evaporative humidifiers work by piping water into the distribution tray located at the top of the humidifier. The water is uniformly distributed across the width of the tray and through a scientifically designed system of outlets. It flows by gravity over the water panel evaporator. Dry, hot air from the HVAC system is moved through the moisture-laden water panel evaporator. Natural evaporation takes place, the water is turned to vapor, and the humidified air is circulated throughout your home.
Included in the box: Installation instructions and template, humidifier with built-in bypass damper, 24 VAC transformer, automatic digital humidifier control and outdoor temperature sensor, saddle valve, solenoid valve, and water panel
Model 600 features:
BUY WITH CONFIDENCE

 

This humidifier was designed and manufactured in the U.S.A. by Aprilaire – the inventor of the whole home evaporative humidifier, and the leader in indoor air quality solutions
FULL COVERAGE

 

up to 4,000 square feet in tightly built homes with a capacity of 17 gallons per day
AUTOMATIC HUMIDIFIER

 

with dual sensors to monitor and respond to both outdoor temperature and indoor relative humidity to deliver optimum humidity 24/7 throughout the home – simply set it and forget it
CONVENIENT DIGITAL CONTROL

 

shows percent humidity, lights indicate humidifier is running, when to change the water panel, when service is needed, and Blower Activation switch sets humidifier to run continually, or only when the furnace runs
HUMIDITY FOR HEALTH

 

Aprilaire Humidifiers can help you maintain optimal humidity in your home of 30% – 60% which has been shown to reduce the incidence of respiratory infections and symptoms related to allergies and asthma by minimizing the formation of bacteria and viruses, fungi, and dust mites. In addition, you'll feel more comfortable while also preserving items in your home susceptible to damage from changing humidity or dry condition
Humidity for Health
Reduce the incidence of respiratory infections and symptoms related to allergies and asthma by minimizing the formation of bacteria and viruses, fungi, and dust mites.
Whether your home is in a dry region of the country, or in an area with seasonal dryness, maintaining the right level of humidity can make all the difference in how comfortable you feel in your home.
Humidity for Preservation
Help preserve the natural beauty of wood floors, cabinetry, furnishings and anything else in your home susceptible to warping, cracking, or other permanent damage due to dry air.
Model 800 features:
High Output Humidifier
Aprilaire Model 800 steam humidifiers use electrode technology and are simple to install, operate, and maintain.  With electrode technology, electrical current flows between submerged electrodes, resistance of the water to the electric current heats the water.  The submerged electrodes are found in a replaceable canister.  At the end of a humidifier season, the canister – including the electrodes, is replaced.  No cleaning, no scrubbing, simply replace the canister and you're ready for the next humidifier season.    Electrode technology requires impurities in the water to promote the transfer of electricity.  For this reason, water filtration is not required with electrode technology, minimizing the complexity of the installation and on-going operating costs. 
FULL COVERAGE

 up to 6,200 square feet in tightly built homes.  Choose from 6 levels of output adding 11.5 to 34.6 gallons of moisture into the air per day based on voltage and installation

IDEAL FOR 

homes in arid, desert climates

PURIFIED WATER NOT REQUIRED

 Electrode technology requires impurities in the water to promote the transfer of electricity.  Water filtration is not recommended – minimizing installation complexity and operating costs 

NO WHITE FILM OR DUST 

is left behind for you to clean up like other steam humidifiers.  Aprilaire humidifier just provide clean, humidified air

DUAL SENSOR 24/7 AUTO MODE

 continually monitors and responds to both outdoor temperature and indoor relative humidity to deliver optimum humidity throughout the home – simply set it and forget it

CONVENIENT DIGITAL CONTROL

 shows percent humidity, lights indicate humidifier is running and when service is needed, and Blower Activation switch sets humidifier to run continually, or only when the furnace runs

HUMIDITY FOR HEALTH 

Aprilaire Humidifiers can help you maintain optimal humidity in your home of 30% – 60% which has been shown to reduce the incidence of respiratory infections and symptoms related to allergies and asthma by minimizing the formation of bacteria and viruses, fungi, and dust mites.  In addition, you'll feel more comfortable while also preserving items in your home susceptible to  damage from changing humidity or dry conditions
"Vivamus magna justo, lacinia eget consectetur sed, convallis at tellus. Curabitur aliquet quam id dui posuere blandit. Praesent sapien massa, convallis a pellentesque nec, egestas non nisi. Vestibulum ante ipsum primis in faucibus orci luctus et ultrices posuere cubilia Curae; Donec velit neque, aucto"
"Vivamus magna justo, lacinia eget consectetur sed, convallis at tellus. Curabitur aliquet quam id dui posuere blandit. Praesent sapien massa, convallis a pellentesque nec, egestas non nisi. Vestibulum ante ipsum primis in"
Get Started
Have a question related to our HVAC products or services? We're happy to help! Our contact information is listed below:
info@watsonsamahahvac.com
761 McKay Rd Units 4, Pickering, ON, L1W3A3